mr ed wineset and 3 generation of treasters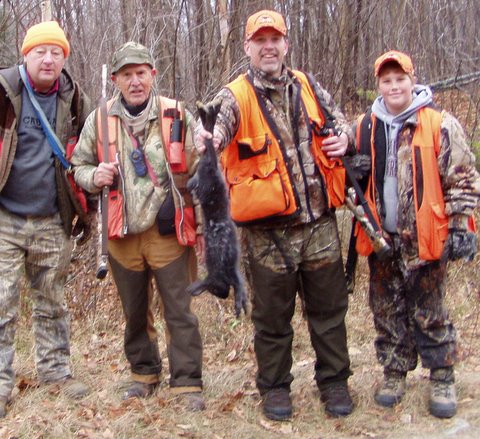 trophy ,all black hare ,taken on a recent hunt
SNOWSHOE HARE GUIDE SERVICE. i guide hunters in northeast kingdom of vermont. my specialty is snowshoe hare hunting with hounds. this is an affordable hunt . rate is 75$/man/day in groups of two or more. you are welcome to bring your own hounds. discounts for large groups and weekday hunts- i also guide for bobcat ,moose, coyote, partridge ,ruffed grouse,turkey.crows- anything but bear with hounds-- and i can reccomend a guide for u in maine for that- ..... for more info click snowshoe hare guide service at left . .... almost 100% of my hunters return again and again and they are my best advertizing and references. book now for 2012-2013 season..
VERMONT MOOSE LOTTERY WINNERS--CALL ME -
guiding for moose in E1 E2 D2 D1 and C

Marble mtn walkers. hunting with hounds has been my life . tree 40-50 bear /year with cold nosed treeing walkers. they are bred for speed , nose, and grit. ,,,, i also hunt beagles and cross bred hounds on hare . if your a breeder of some good hounds either treeing walkers or rabbit hounds id be interested in hearing from you.... im a NO BS kind of guy . my motto is i do my best to breed hounds that i dont need to make excuses for.i didnt start yesterday and i wont be gone tomorro. if your interested in booking a pup or a hunt contact me. if you just want to talk dogs, other than hunting dogs, theres not much id rather do than talk dogs.....This website is very cluttered and unorganized-- u should see my truck-- clik around-- pete

bobcat 2002



visitors photos. send me some good hounds and hunting related photos. ill post them. make your old hound famous.

proud grandpa


some of my favorite clients in 2004--this was their first game ahead of hounds

. im a houndsman/ hunting guide. not a webmaster.click links to left to navigate-- email me if u have any questions-- pete
i'd like everybody who visits this website to send me an email , sign guestbook ,write in the forum,
this site is as good as you make it . send me some good hound or hunting photos
i will be adding more pages
id like to exchange. links with any hound or hunting related websites. type your text link in my links page or send me your banner.
treeing walkers,beagles,blueticks,blackand tans,redticks redbones.plotts, curs,whatever kind of dog you hunt . rabbit hunter, bird hunters ,bear hunters,coon hunters, cat hunters ,coyote hunters,field trialers.All are welcome here . one purpose of this site is to advertise my guide service and treeing walker hounds. the other is to promote hounds.sporting and working dogs of all kinds. all hunters , houndsmen,sporting and working dog enthusiasts need to stand together. thats my sermon for today . if there is something you think i should add to this site let me know. pete
pete richardson 2474 pepin rd brownington vt 05860
eight 0 two-323-7898
802-754-1084
due to party poker spamming my guestbook i have deleted it - send me an email--